By tehconi | March 29, 2015
"Thirty years ago, my colleagues, younger and more dreamy eyed, settled the words of our pledge. We did not focus our minds on our navels or we would have missed the rainbow in the sky. We pursued that rainbow and that was how we came to build today's Singapore."
"For the young, let me tell you the sky has turned brighter. There's a glorious rainbow that beckons those with the spirit of adventure. And there are rich findings at the end of the rainbow. To the young and to the not-so-old, I say, look at that horizon, follow that rainbow, go ride it."
"This country belongs to all of us. We made this country from nothing, from mud-flats… Over 100 years ago, this was a mud-flat. Today, this is a modern city. Ten years from now, this will be a metropolis. Never fear!"
"You begin your journey not knowing where it will take you. You have plans, you have dreams, but every now and again you have to take uncharted roads, face impassable mountains, cross treacherous rivers, be blocked by landslides and earthquakes. That's the way my life has been."
http://www.channelnewsasia.com/news/singapore/singapore-s-first-prime/1720740.html
Topics: inspiration, people | No Comments »
By tehconi | January 8, 2015
It doesn't interest me what you do for a living. I want to know what you ache for – and if you dare to dream of meeting your heart's longing. It doesn't interest me how old you are. I want to know if you will risk looking like a fool – for love – for your dreams – for the adventure of being alive.
Topics: quotes | No Comments »
By tehconi | December 1, 2014
In the dark night of the soul, do not give up.  Find something which restores you and makes you feel alive.
"Play your life with all you have and share it with the world."
Topics: inspiration, music, people | No Comments »
By tehconi | November 21, 2014
Josephus Tan shares how the film Patch Adams, starring the late Robin Williams, turned his life around, inspired his belief that skills and knowledge should be shared, and fuelled his mission in conducting pro bono criminal defence work.
Watch the video at http://sgiff.com/lifereframed/josephustan/
Topics: inspiration, people | No Comments »
By tehconi | August 12, 2014
R.I.P. Robin Williams.  He is my favorite actor.  "Patch Adams" was one of the first few movies I watched which made me fall in love with cinema.
http://www.huffingtonpost.com/2014/08/11/robin-williams-dead-dies_n_5670050.html
http://edition.cnn.com/SPECIALS/showbiz/robin-williams/index.html
Topics: celebrities, entertainment, people | No Comments »
By tehconi | August 11, 2014
Went to see Annie Leibovitz's photography exhibition at the museum over the weekend.  Not only did I learn about the highly acclaimed photographer, I got to know a literary legend Susan Sontag.
Often I get to know people through associations and referrals.  I read a book which talks about someone, and I check it out.  I have made significant discoveries this way, of people towards whom I feel an affinity.  Even though they are mostly far away, they teach me so much and shed light on questions in my mind.  Indeed, they are kindred souls to me.
"A writer is first of all a reader. It is from reading that I derive the standards by which I measure my own work and according to which I fall lamentably short. It is from reading, even before writing, that I became part of the community – the community of literature – which includes more dead than living writers." ~ Susan Sontag
I read this on the back cover of a book on Susan Sontag.  It brought a smile to my face =)
Her son described her with "avidity".  She wanted to know everything and experience everything. She had many interests.  Her curiosity and passion for life did not diminish with the years.
I am very happy to meet Susan Sontag.  I always thought there is something "wrong" with me, why do I have so many interests.  I even suspect that I have ADHD.  Now I know I am not alone… Susan Sontag was so much more, only she called it "Attention Surplus Deficiency" as she had no problem at all paying attention to the world around her =)  
Topics: people, thoughts | No Comments »
By tehconi | August 9, 2014
When I was younger and a student, I wrote a story drawing inspiration from Magellan's Travels for English Literature class.  My teacher, a hot woman in her 20s, gave me a good grade and told me that she was impressed.
Looking back, I think the explorer streak is always in me even since young.  It is my innate nature. That's why, I think there is a reason why I took certain paths and made certain decisions in my life although on the surface of it they seemed chaotic and reckless.  If I had made another decision or taken another path, that would not be the authentic me.
Like the great traveller Magellan, I have travelled quite a bit.  Not so much physically but more mentally. Magellan explored the physical world.  I explored my mental world.  With every venture, the boundaries are pushed further a bit more.
I am always excited to find out what more I will discover – about myself, about people and the world.  Setting sail gives us the opportunity to discover.  Upon discovery, what do you do with it? Do you sail around the world chasing infinite unknowns or drop anchor selectively in the lands which are fertile and hold potential for development?
Sinking roots in something which we love gives us deep satisfaction.  Setting sail and exploring the unknown enriches the human experience and gives us new ideas.
"Several times in my life, I have done utterly reckless things with so little motive, that I have found it difficult to explain them to myself afterwards." ~ Arthur Conan Doyle
I feel the same way and am glad to meet a kindred soul in Sir Arthur Conan Doyle. Despite the agony and internal conflicts, he turned out well for the contribution made to literature and imagination.  It gives me hope that all will be good in due course.  It gets better =)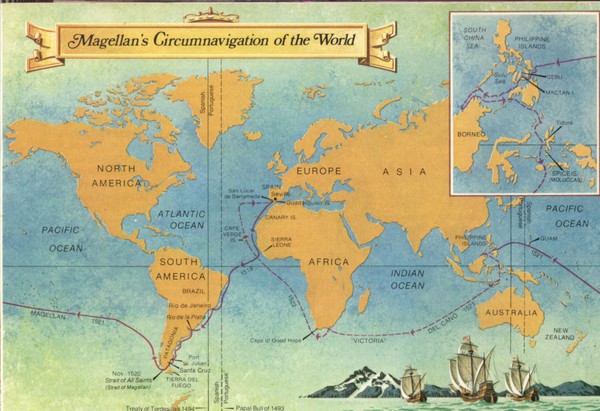 Topics: thoughts | No Comments »
« Previous Entries
Goto Page Number