By tehconi | December 3, 2013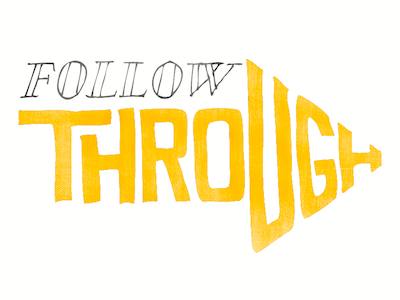 For a very long time, I suffer from scatter-brain and the shiny object syndrome. Every option looks attractive. Which one should I choose? If I choose this, what will I miss? Hence the inability to focus and commit. Jumping from one project to another. Start many but finish few. Get myself exhausted from climbing mountains and get nothing done in the end.
The turning point came when I learnt about the concept of "follow through". Decide and focus on one. Follow through with it till completion. What I need to strengthen is my follow-through muscle. Complete one and then go on to the next.
W.Clement Stone said in his book, "When you set out for a goal, don't come back without it!"
Seth Godin also advised, "Know what to quit".
Haha it's a balancing act. Each of us have to find our path.
Topics: thoughts, inspiration | No Comments »
Share This Post
By tehconi | October 25, 2012
"If I have ever made any valuable discoveries, it has been owing more to patient attention, than any other talent." ~ Isaac Newton
"Attention is an act of love, an act of connection." ~ Julia Cameron
Topics: quotes | No Comments »
Share This Post
By tehconi | October 24, 2012
It feels so good to let go. What a relief to not carry the burden any more.
Topics: thoughts | No Comments »
Share This Post
By tehconi | October 14, 2012
Sometimes we think that to touch lives, we need to do big things and sacrifice a lot.
Actually touching lives can be very simple. Just by being kind, being considerate to people around us, and speaking with gentle words, we can touch lives through our presence.
We can start from where we are, now and here.  We don't have to go to Africa or some war torn countries or involve in some mega project.
This is what my friend and ex-colleague taught me.  She was an ordinary person, an ordinary office worker.  She was a kind and gentle person with a good heart, considerate to people.  This is what makes her unique and extraordinary.  She touched me with her presence.  I will remember her, even though she is no longer with us.  Goodbye my friend ST.  You will be missed.
Topics: thoughts | No Comments »
Share This Post
By tehconi | October 12, 2012
5 Steps to Get Up and Bounce Back
BOUNCE BACK!
There it is. These two words define the border between winners and losers.
100% of people fall down… but an unknown significantly less percentage get back up again and bounce back.
Deciding to bounce back should not be a choice… it should be a lifestyle.
Doing it again should not be an option, it should be an automatic response.
The only way to win is to be willing to lose again.
The easiest part of success is identifying where you are and where you want to be. The most challenging part of success is being able to bounce back over and over again in your journey to get where you want to be.
Getting hit and bouncing back are par for the course of success. The question is never, will you get hit… the question is always… what will you do when the hits start coming… when you're overwhelmed with the weight of adversity and when you fall down and feel like you can't get back up again.
Here's a quick look at the 5 steps we will cover in this episode on "How To Bounce Back – When You've Fallen, Here's 5 Steps To Get Up and Bounce Back"
Read The Original Article Here: http://successsculpting.com/1150/bounce-back/
Topics: inspiration | No Comments »
Share This Post
By tehconi | October 7, 2012
                                  You can spend your whole life buildin'
Somethin' from nothin'
One storm can come and blow it all away
Build it anyway

You can chase a dream
That seems so out of reach
And you know it might not ever come your way
Dream it anyway

[chorus:]
God is great, but sometimes life ain't good
When I pray it doesn't always turn out like I think it should
But I do it anyway
I do it anyway

This world's gone crazy and it's hard to believe
That tomorrow will be better than today
Believe it anyway
You can love someone with all your heart
For all the right reasons
And in a moment they can choose to walk away
love 'em anyway

[chorus]

You can pour your soul out singing
A song you believe in
That tomorrow they'll forget you ever sang
Sing it anyway
Yeah, sing it anyway
I sing, I dream, I love
Anyway
yeah
Topics: inspiration, music | No Comments »
Share This Post
By tehconi | October 7, 2012
I love those tiny feet!
Topics: thoughts | No Comments »
Share This Post
« Previous Entries
Goto Page Number